Padmavati Controversy Starting with Deepika Padukone
Yes, Deepika is Trolled Again in Sovial Media Due To Her new Bollywood Movie Padmavati. This Time Her Fans Come to Save Her and Said we are with You. Deepika Recently Visited a Reality Show to Promoter her upcoming Movie Padmavati Just Have A look.
Deepika Fans Post this Picture and Rescue Her. Deepika Padukone's post had over 2 lakh likes in two hours In Bollywood News and Gossips  .
Few days Back Karni Sena Chief calls Deepika 'Baazaru' and calls Ranvir Singh "Immoral. speaking to India Today in Patna, Kalvi said that the Sena has called for a Bharat bandh on December 1, the date on which the controversial film is slated to release. "Padmavati will not release at any cost. Who is Deepika Padukone? Is she the Prime Minister or President that she is challenging us?"
Here are some comments in support pf Deepika Padukone and her film.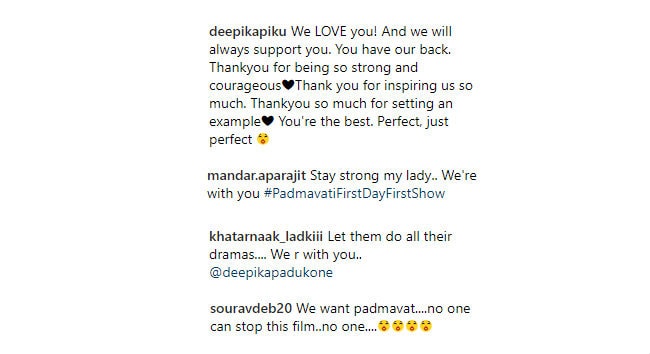 Rajput Karni Sena and other Rajput outfits are protesting against the release of Padmavati. They've alleged that director Sanjay leela Bhansali has misrepresented facts and distorted historical narratives while making the film.
Related post-
Its Not Ghoomar video Deepika Padukone Trolled For Pics With Ranbir Kapoor's Cousins
The unstoppable! Is Back In Cover Page of Filmare For November and December Issue
Badshah of Bollywood Decided To Replace Quantico Actress in Don 3 With Rani Padmavati